往复式面包切割片 Reciprocating Bread Slicer Blades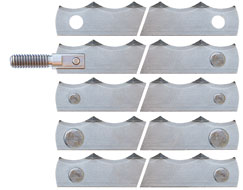 KASCO bread slicing blades for reciprocating blade bread slicers are designed to produce clean, straight, and consistent slices time after time. Our bread slicing blades are ideal for retail and wholesale businesses by reducing bread tearing and crumbing. As a result, there's less bread product waste and a more appealing bread product display.
KASCO 往复式面包切片机的刀片是经过多次设计研发,生产清洁,平直和一致的切片。我们的面包切片刀片是面包工厂或零售和批发业务者的理想选择。其结果是有极少的面包碎屑和更吸引人的面包卖相。
We start with the highest quality steel to produce our durable long-lasting bread slicer blades. Precision grinding then induction hardening the teeth produces a long-lasting and sharp edge. KASCO's Premium Scallop edge bakery and bread slicer blades exceed industry standards for sharpness and durability.
我们选择最优质的钢开始生产耐用持久的面包切片机刀片。经过精密磨削感应淬火齿尖产生了持久和尖锐的边缘。KASCO的高级扇贝形刀片的锋利性和耐用性远远超过行业标准。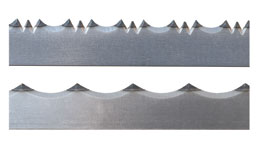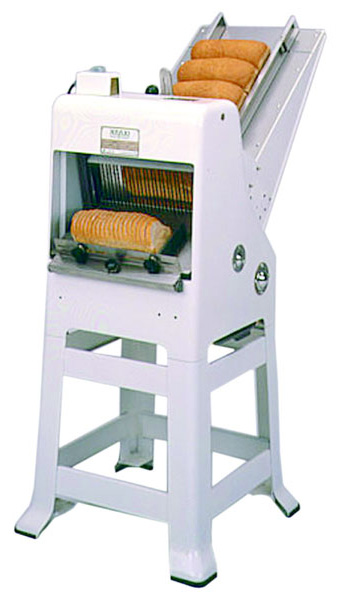 KASCO's new ABT bread slicing blades were designed and engineered using artisan bread technology. They feature a unique scallop + tooth edge that provides a clean and crush-free slice every time. The ABT artisan bread blade is perfect for a wide variety of retail and wholesale bread slicing applications including crusty, hearty, nutty, and full grain. Even warm sourdough loaves do not crush when sliced with KASCO ABT artisan bread slicer blades.
KASCO的新ABT面包切片刀片是用工匠系列面包技术设计和制造的。它们具有独特的扇形和齿边方便切割。ABT的面包刀片完美符合各种各样的零售和批发的面包机应用,包括硬质,饱和,坚果类,全粒等平整的切面。KASCO ABT的面包刀片可以切割即使是温热的发酵面团面包。
Premium Scallop edge and ABT edge reciprocating bread slicing blades are available in a wide selection of lengths and end fittings to fit most commercial bread slicing machines, including Oliver, Berkel, JAC and Doyon. All reciprocating bakery & bread slicing blades are cut to the exact length with precision hole, pin, rivet or threaded fastener placement for exact fit in machines from manufacturers such as Oliver, Berkel, JAC and Doyon. We recommend replacing the bread slicing blades on your slicers every 6 to 12 months, depending on the volume of bread you slice.
高级扇形边和具有ABT边缘的往复式面包切片刀片的连接端接头适应最具商业性质的面包切片机,包括Oliver, Berkel, JAC和Doyon等多种供选择。所有的往复式面包和面包切片刀片削切的精确的长度与精密孔,针,铆钉机匹配制造商如Oliver, Berkel, JAC和Doyon的螺纹紧固件安置。
我们建议每6个月至12个月更换您的面包切片机刀片上,具体更换周期取决于您切面包的体积。