标准系列 Criteria Meat Grinder Plates & Knives
四倍寿命的标准系列 The Total-Mated Meat Grinder System with Quadruple Cutting Life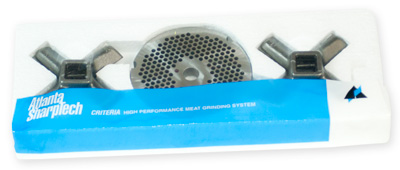 KASCO presents the ideal solution for meat processing operations that need a balanced blend of quality performance, durability, and versatility. Criteria meat grinder systems consist of one exceptionally durable plate and four knives total-mated to deliver quadruple cutting life. These meat grinder plates and knives are affordable without sacrificing effectiveness and efficiency.
KASCO提供了肉类加工操作的理想解决方案,这需要平衡的混合质量性能、耐久性和多功能性。标准绞肉机系统包含一块耐用的绞盘和四片刀片提供四倍使用寿命。同时,这些铰刀铰盘均都能保证高效运转。
Criteria meat grinder plates and knives simplify and expedite meat grinding operations. The long-life and stain free plate is durable and long-lasting. When one knife wears out, simply replace it with another one of the four knives supplied in the system package.
标准系列可以简化和加快肉制品在绞肉机中的操作。长寿命和无污点的绞盘坚固耐用。当一把刀磨损后,只需将其换成四把中的另一把继续工作。
There's no need to worry about mating, because the entire system is total-mated. In addition, the blades wear sharp for the smooth and clean cut that produces superior visual appearance and case life. The KASCO Criteria meat grinder plates and knives can be used for any retail grinding operation.
请不要担心该系统的匹配性问题,因为整个系统是相互匹配的。此外,铰刀的锋利有利于急剧而准确切割,具有优越的视觉外观。KASCO 标准系列刀可以用于常规绞肉机系统。
.