Powermate 高速伴侣系列 Meat Grinder Plates & Knives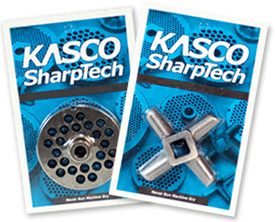 The KASCO Powermate is simply the best resharpenable meat grinder system available today. Precision engineered of high-strength hardened stainless tool steel, Powermate meat grinder parts are ideal for all large volume meat grinding operations or high horsepower machinery. Powermate meat grinder plates and knives are inexpensively sharpened over and over to provide years of cutting life. This is a cost efficiency measure that can reduce costs and boost profit margins.
KASCO的高速伴侣系列产品是当今市面上最好的产品。拥有高精密度、高强度的硬不锈钢工具使Powermate产品适合所有高功率绞肉设备或大马力的机器匹配。Powermate绞肉机铰刀铰盘系列可提供多年的绞肉使用寿命。使用本系列产品可降低成本,提高生产企业利润。
Powermate components fit any make or model of meat grinder in the "Enterprise" system. All Powermate meat grinder parts are perfectly matched, with ultra-sharp cutting edges that produce long strands of beautifully blended ground meat for maximum shelf life and sales appeal. The welded knife bars on the knife clean faster and easier than ordinary bars attached with screws or rivets, which means more sanitary meat cutting conditions. In addition, KASCO provides a precision square center hole in the knife, an extra precision step that helps decrease stud and wear.
Powermate组件普遍适用于任何绞肉机系统。所有Powermate系列部件可以完美匹配,其超锋利的切削刀刃,使得切割出的产品保质期延长,销量也更好。焊接刀条清洁方便,这就能为切割环境提供更好的卫生条件。此外,KASCO还提供精密方心孔刀,这个额外的精密步骤可以帮助减少立柱磨损和提高精度。