Kam-Lok™ 专业手工锯 Professional Saws and Blades
Pick up our Kam-Lok™ Professional Handsaw and hold it in the cutting position. Instantly, you sense that this is the finest cutting instrument of it's kind you've ever held in your hand. Here's why:
拿起我们的Kam-Lok™专业手工锯,并保持它在切割的位置。瞬间,你就能感觉到这是最好的切削工具。这是因为:

Hand Crafted Using the Finest Materials 用最好的材料纯手工制作的
Our Kam-Lok™ professional butcher saws have been hand-crafted since 1909 using the finest materials available. We start with high quality stainless steel bar stock, then precision cut, shape and form it into the butcher saw frame. Holes are drilled and the frame is then manually buffed and polished to a reflective finish. Every Kam-Lok™ lever is individually formed and adjusted before attaching to its frame. The high strength polymer handle is then attached. A quality KASCO blade is then installed and the butcher saw is ready for final inspection, packaging and delivery. Don't settle for less than a Kam-Lok™ butcher's hand saw...the quality standard for more than 100 years!
Kam-Lok™专业手工锯自1909年以来使用最好的材料制作。我们从高品质不锈钢棒料开始,经过精密切割,改变形状和形式到制成锯架。然后制作孔钻和框架,再经过手工磨光和反复抛光完成。每个Kam-Lok™杆在连接到框架前都经过单独制作和调整,然后连接高强度聚合物手柄。安装一个高质量的KASCO 金属锯条,最终通过检验,包装和发货。Kam-lok手工锯,拥有可以持续100年以上的质量!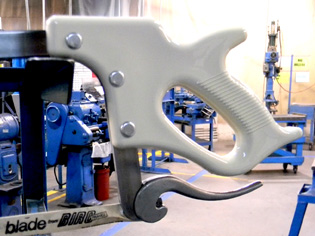 Pistol-Grip Handle 手枪式手柄
Your hand wraps firmly, comfortably, naturally around the contours of the pistol-grip handle. It's made of non-porous, virtually indestructible plastic that repels meat acids, stains and bacteria. Cleans quickly and easily for a more sanitary operation.
你的手可以握得牢固,舒适,自然地围绕在手枪式手柄的周围。它是由非多孔高强度塑料基材制做而成,排斥肉酸、污渍和细菌。清洁时快速、容易操作且更卫生。
Alignment 校准
You note the precision alignment from grip to tip that makes the most exacting cuts smooth, clean and effortless.
校准精度可以使其切出最严格平整、清洁、干净的表面。
Kam-Lok™ 连接杆 Lever
With a flip of the wrist you unlock the Kam-Lok™ switch blades and re-lock the lever that always maintains just the right amount of blade tension automatically.
翻转手腕可以解开Kam-Lok™锯条固定口并可以重新锁定连接杆,使之始终自动保持适量的刀片张力。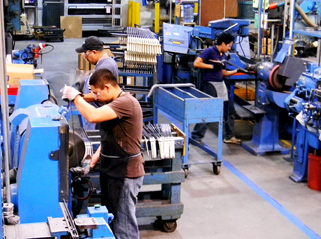 Replacement Blades 可更换的专业手工锯条
KASCO replacement blades for Kam-Lok™ saws are superbly engineered and precision manufactured to assure that they meet the same high standards as the frame. Only the hardest spring tempered steel available is used. Teeth are precision ground for maximum sharpness and the set is controlled to exact tolerances for fast, easy cutting. The thin slot of the frame keeps the blade rigid and stable, insuring straight cuts.
KASCO 为Kam-Lok锯更换的锯条是高档设计和精密制造的,以确保它们满足相同高标准的框架结构。只有最坚硬的弹簧钢可以使用。齿有最高的清晰度并经过精密研磨,集可控制,速度快,易切削等优势一身并保证精确公差。窄槽的框架保持锯条的刚性和稳定,确保直线切割。
Aluminum and stainless steel Kam-Lok™ handsaws are available in various sizes.
我们提供各种尺寸的铝和不锈钢Kam-Lok™专业手工锯。